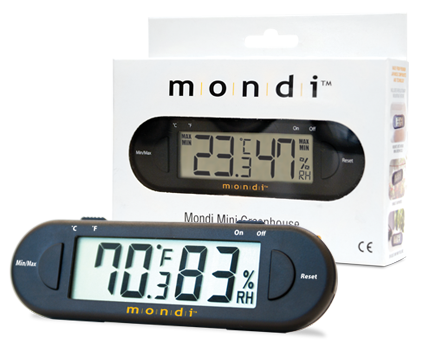 Mondi Products is bringing propagation to a whole new level with the Mini Greenhouse Thermo-Hygrometer. Its revolutionary technology gives you the precise, real-time information that is essential during propagation, meaning it's never been easier and more enjoyable to propagate a wide variety of plants. Included in this kit is everything you need to start enjoying the numerous benefits the Mondi Mini Greenhouse Thermo-Hygrometer has to offer.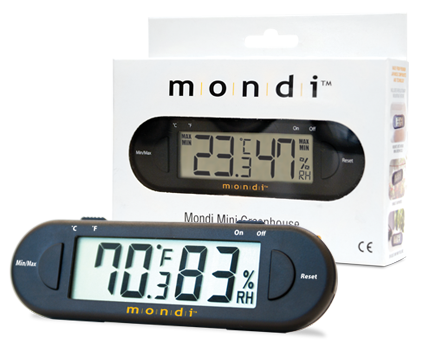 PREVENT WILTING
PREVENT DISEASE
PREVENT DEATH
You've probably heard the phrase "Children are the future", but if you're a serious grower you know your future is seedlings and cuttings. The propagation portion of a plant's life cycle is arguably the most important, as it sets the tone for the rest of a plant's growth. Any mistakes during this time can be extremely costly and are simply unacceptable.
Keeping your seedlings and cuttings at the improper temperature and humidity can have catastrophic results such as wilting, disease and even death. All of these scenarios mean a loss of time and money and can completely ruin your growing cycle. Do you want to throw out hundreds of dollars of dead or diseased plants? Do you want to experience failure? Of course, you don't.

Mondi Mini Greenhouse (#G100) and Mondi propagation Tray (#G150) sold separately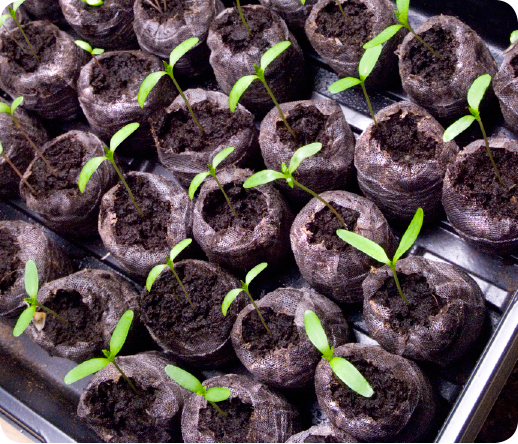 Reads temperature and humidity from inside of the Mondi Mini Greenhouse
Guarantee yourself success with the new Mondi Mini Greenhouse Thermo-Hygrometer.
This revolutionary product mounts anywhere on your Mondi Mini Greenhouse and reads temperature and humidity inside the dome. In combination with Mondi Easy Vents, it ensures plants get the start they need by providing growers with the essential real-time information necessary to produce large quantities of healthy plants. If you want your seedlings and cuttings to reach their full potential then you simply must have the Mondi Mini Greenhouse Thermo-Hygrometer.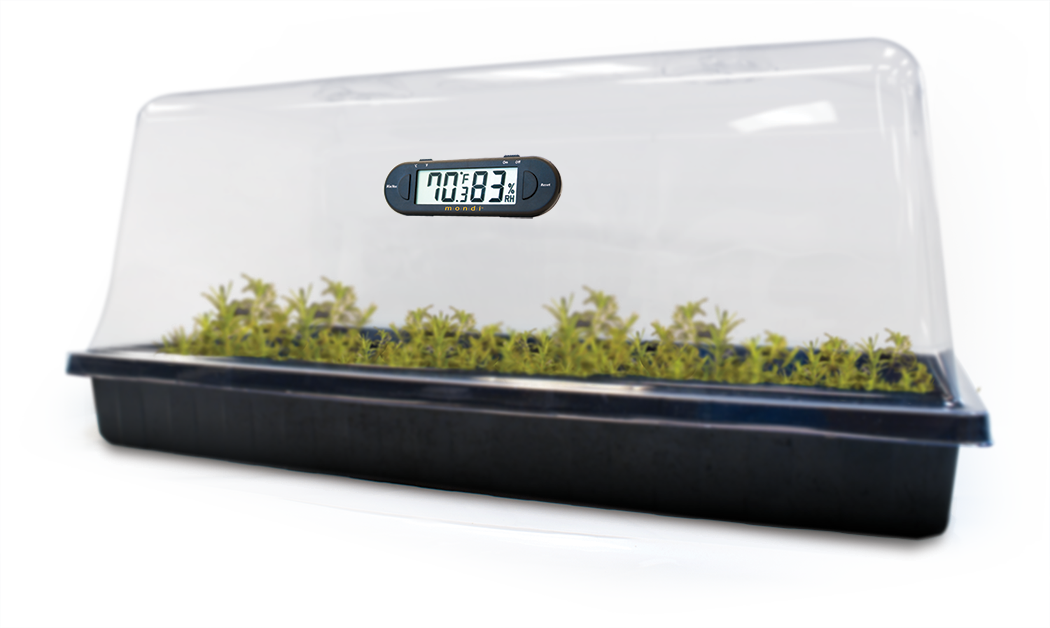 Starting plants with Mondi is as easy as 1 • 2 • 3 with the easy grow combo™!
Whether you're a professional grower or a garden novice, Mondi has the perfect combination for your best season yet. The Mondi Easy Grow Combo combines the Mini Greenhouse, 1020 Nursery Tray and Propagation Tray Insert to give you more space, durability and optimal conditions for seeds and cuttings.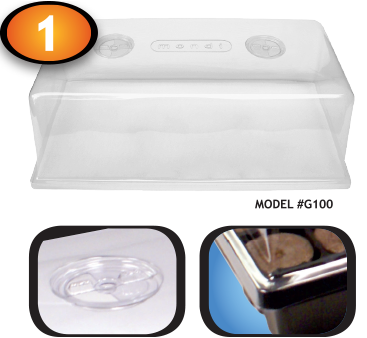 Professional propagation domes that are designed to ensure the highest success rates in plant propagation
Provide a high volume of space, allowing seeds, cuttings and plants more room to develop
Mondi's Easy Vents allow for perfect control of humidity levels for optimal environmental conditions
Thick, heavy duty, high grade plastic maximizes light penetration and stands up to repeated use
The G100, G150 separate and nest easily, boxed in case of 50. The G150 is boxed in cases of 100.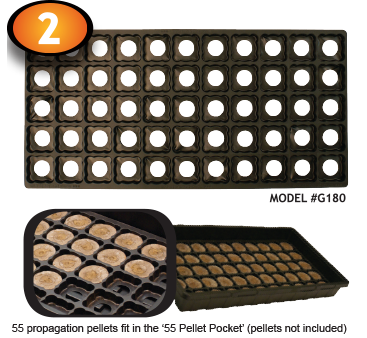 Used along with propagation trays to make pellet expansion convenient and clean with even spacing and air flow.
55 pellets fit snugly while providing excellent drainage through large sized holes
Can be used with a variety of growing mediums including peat or coco pellets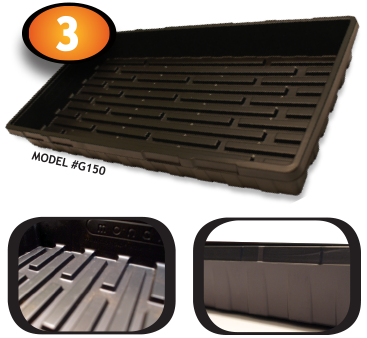 Vacuum molded design that provides a flexible system for starting all crops
Manufactured with super reinforced sides and thick, UV protected plastic for longer life and maximum durability
Professionally engineered tray ends add extra strength, making them easier to carry and move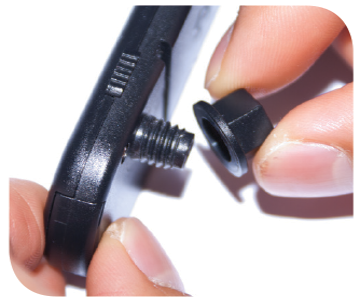 Mounts onto Mondi Mini Greenhouse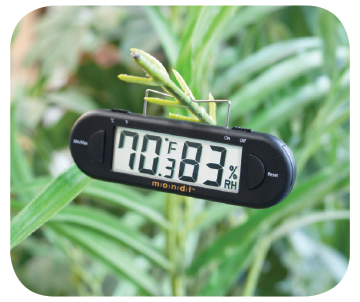 Hang it anywhere in your greenhouse or grow tent*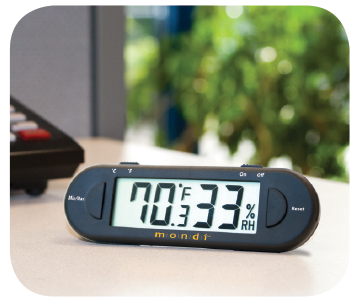 Use for any horticultural purpose
* For accurate readings DO NOT mount this unit on the wall.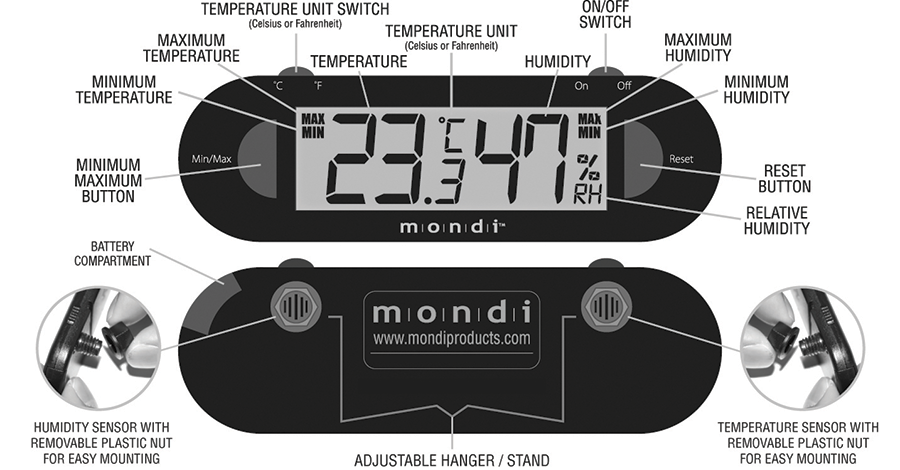 SPECIFICATIONS: • INDOOR TEMPERATURE MEASURING RANG: -9.9°C TO 50°C (15.8°F TO 122°F) • INDOOR HUMIDITY RANGE: 25% TO 98% RH • POWER: L1154H BATTERY X 1 PIECE (included) • WEIGHT: 25.5 grams / 0.9 oz – WIDTH: 130mm /5.1 – HEIGHT: 30mm / 1.1in
What are the advantages of the Mondi Mini Greenhouse Thermo-Hygrometer?
The biggest advantage of the Mondi Mini Greenhouse Thermo-Hygrometer is the ability to get real-time information about the conditions inside your Mini Greenhouse without having to use an internal or external thermometer/hygrometer. These other devices often require you to open the dome to read the information, which is not only a hassle but also disturbs the environment inside the Mini Greenhouse. This benefit, along with its quality design and incredible durability, makes it the number-one product when propagating.
What is the ideal temperature to maintain inside my Mondi Mini Greenhouse?
The ideal temperature inside your Mini Greenhouse can be anywhere between 18 to 35 °C (64-95 F), depending on the plant you are growing. Do some research beforehand to determine the optimal temperature for your plants.
What are temperature and relative humidity and why are they important?
Temperature is a measure of how hot or cold the air is, while relative humidity is a term used to describe the amount of water vapour in the environment. Plants do not fare well when exposed to extreme conditions, so to ensure plants reach their full potential temperature and humidity need to be kept at optimal levels.
What is the ideal relative humidity to maintain inside my Mondi Mini Greenhouse?
The ideal humidity for germination is about 80%, although up to 90% is alright. Any higher than 90% can be harmful to plants, while a humidity lower than 80% can slow germination, so monitor humidity carefully. When roots begin to show and new growth is seen humidity should be lowered slowly. Once the roots have taken humidity should be at 60%, and by the end of flowering humidity should be at around 40%.
Do I have to use the propriety drill piece to mount the Mondi Mini Greenhouse Thermo-Hygrometer?
No, you can use any drill piece that is 8mm (1/3") in diameter. Mondi Products Inc. has simply included its proprietary drill piece for your convenience.
Are there any other products like the Mondi Mini Greenhouse Thermo-Hygrometer available?
No. The Mini Greenhouse Thermo-Hygrometer is a truly unique and patented product that's only available from Mondi Products Inc. It is the only device that provides you with real-time information and a stored history of minimum and maximum temperature and humidity readings of the conditions inside your Mini Greenhouse without requiring you to use internal or external thermometers/hygrometers that weren't specifically designed for the horticultural industry.
How can I adjust the temperature and humidity in my Mondi Mini Greenhouse?
Mondi Mini Greenhouses are available with Easy Vents that can be opened and closed to adjust the conditions inside. Opening the Easy Vents will lower temperature and humidity while closing them will raise temperature and humidity.